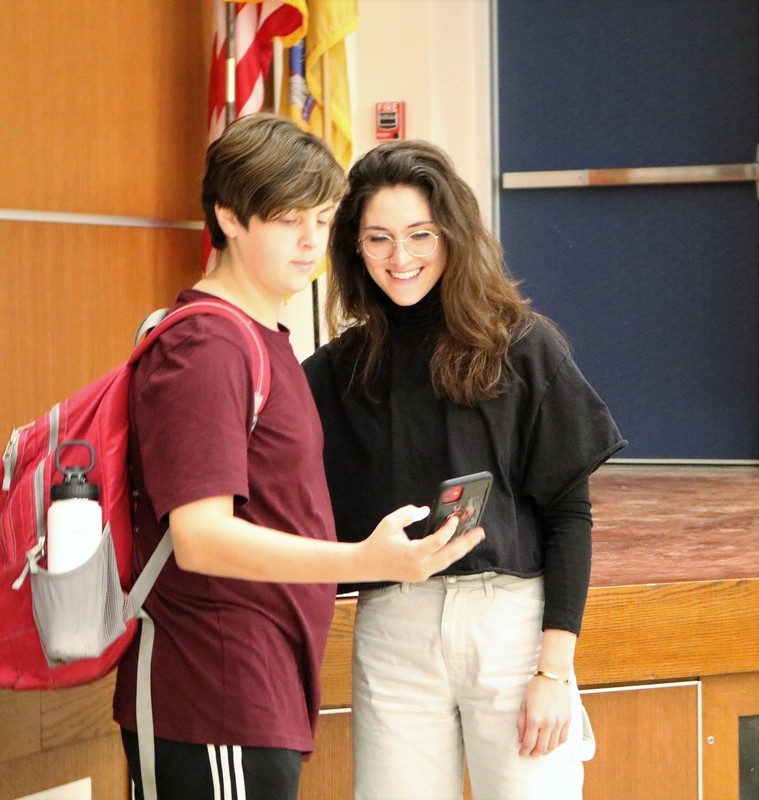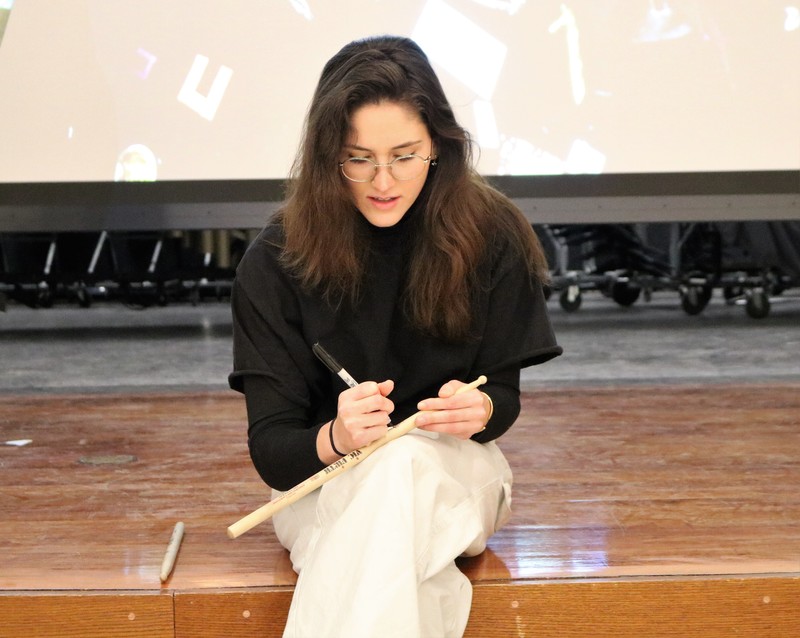 Westfield High School alumnae Lucy Ritter recently returned to her alma mater to share her experiences as Drumset Chair for the national tour of the Grammy Award-winning musical, Alanis Morissette's Jagged Little Pill.
Ritter, WHS Class of 2018, spoke to young percussionists and other band musicians at the high school and at Edison and Roosevelt Intermediate Schools on December 20.
"I loved visiting all three Westfield schools. One thing that stood out to me was the attentiveness of the students. From 6th all the way to 12th grade, every student was engaged and eager to learn from my experience," says Ritter, who received her Bachelor of Music from Indiana University's Jacobs School of Music. "The students brought up thoughtful questions -- ones I've never heard asked even at my college clinics. It reminded me of how intelligent and kind the music students are in Westfield."
Ritter began playing drums at age 9. She says her passion for drumset - a set of drums, cymbals, and other percussion instruments - "flourished through high school" where she studied at the Eastman School of Music and New York University Steinhardt School of Culture, Education, and Human Development. During her years in the Westfield Public Schools, Ritter divided her extracurricular time between athletics and the performing arts, before choosing to devote full-time to her music.
"It was inspirational for the students to hear from Lucy, knowing that she sat in their position just a few years ago," says WHS band director Trevor Sindorf. "In music, it's easy to get frustrated by the day-to-day minutia. Lucy was a developing percussionist in this program too, and through her daily hard work and perseverance is now living out her dream."
Ritter, who has conducted clinics at several university percussion departments, was invited to speak to Westfield students by Sindorf and co-band director Christopher Vitale.
"I enjoyed the unique questions students asked, especially from the sixth graders," she says. "I've never presented to such a young age group and they were incredibly bright. I also loved chatting with the female music students and percussionists who took interest in what I do."
"Lucy only had a few days off from her tour, and we were really touched that she was so passionate about inspiring the next generation of Westfield percussionists," Sindorf adds. "Lucy was a strong player at Westfield, qualifying for region band on snare drum, winning the concerto competition on marimba, and earning individual awards on drum set through the years, but it was her leadership that really stands out in my mind. Simply put, we're just tremendously proud of her!"
Prior to joining the national tour of Jagged Little Pill, Ritter performed with the North American tour of An Officer and a Gentleman, The Musical. Ritter has performed in more than 30 states and numerous countries including Finland, Latvia, and Estonia.