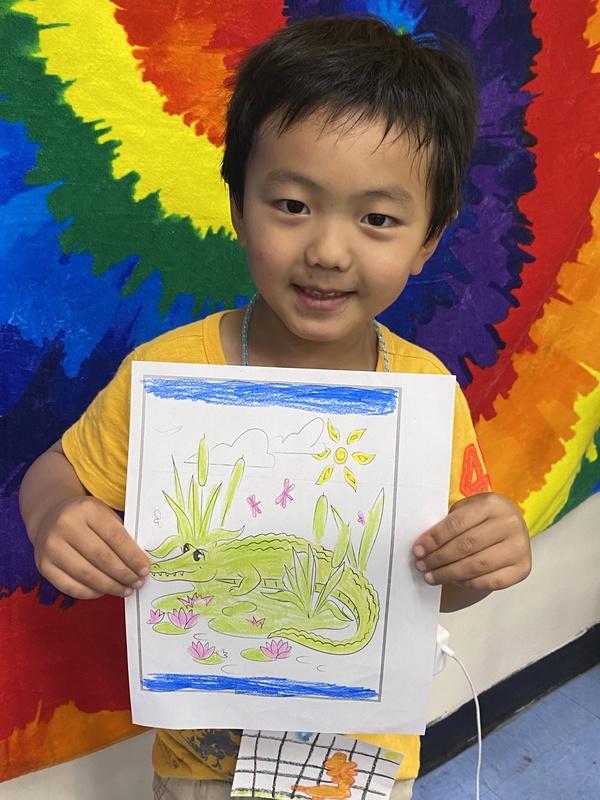 July 26, 2022 --
The study of animals and their habitats was the focus of the English Language Learners (ELL) Summer Experience, a two-week summer camp for Westfield students that provides meaningful enrichment activities to help students continue their English language acquisition.
This year's ELL program ran from July 11-22 at Wilson Elementary School and welcomed 19 students in grades 1-5 whose native languages include Chinese, Portuguese, Russian, Spanish, Turkish, and Ukrainian.
"One of our goals was to highlight community and being connected. We started with the foundation of 'What is an animal and what does it mean to be alive?' We discussed the importance of shelter by building bird houses, the necessity of food by constructing bird feeders, and interconnectedness by designing our own food chains," says Edison world language teacher Jillian Martinez, who runs the program with fellow world language teacher Mercedes Poyntz. "Our daily lessons were designed to deeply explore animal concepts while encouraging communication that practiced and strengthened their language production."
"The hands-on activities allowed us to weave important SEL competencies that enhance language acquisition," adds Poyntz.
K-12 World Languages and ELL Supervisor Enrique Pincay says the campers enjoyed the two-week program.
"The ELL Summer Experience is a wonderful opportunity for English Language Learners (ELLs) to enrich their academic knowledge and language skills," says Pincay. "Students also have the chance to make new friends as they're grouped with ELLs from other schools within our district."
Pincay credits the teachers with doing "a wonderful job infusing in their lessons everything about animals," adding "we expose our ELL campers to student-centered activities that not only improve their literacy skills but also enhance their social-emotional development through meaningful educational experiences."